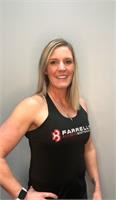 Amber Raymond
I am a mother of 3 and a RN.
I started FXB in January of 2016. A little over a year later I transferred locations and became an instructor. Becoming an instructor was an easy decision for me because I have always come from a place of wanting to help people in whatever area they need help.
I love the FXB community and people who show up to the gym to work on their goals.
FXB offers a variety of classes with unique and challenging workouts. Instructors and staff are knowledgeable and help members work towards their goals whether it be weight loss, to increase muscle, healthy food choices, and accountability to name a few.