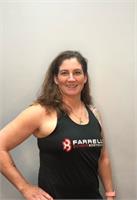 Lisa Fox
My name is Lisa Fox but some may know me as Tia Storm. I joined Farrell's way back in session #2 of the gym opening in Albertville in April of 2017 and haven't looked back since. I became an instructor about a year and a half later because I love helping others with their journeys.
I also like being able to come to a class and not have to worry about what I'm going to do, or have to wait for a machine, or coming up with some type of routine. I've never been good at that!
Farrell's Family is what you become when you join. We hold each other accountable and have a way of lifting each other up. The knowledge and support we receive here is what makes us unique!