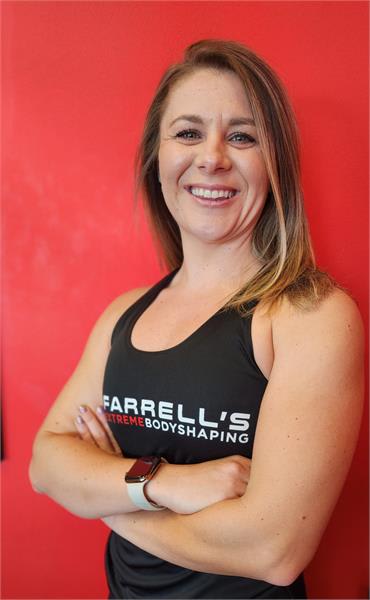 Michelle Stahl
I am a newer instructor, officially testing out in December 2022, but I have been an avid member since Thanksgiving of 2019. At this point, I only teach strength classes and typically was a fan of lower body, but I think upper body is starting to creep in as a favorite contender! There's a good chance you might see me on the mat soon, for kickboxing as well!
If we are looking at hobbies specifically outside of the gym, I'd have to say that mine is spending time with my friends and family. I know that sounds cliché, but it's true. Outside of FXB, that is the other "thing" that energizes me. It can be from playing with my daughters, going on date night with my husband, girls' weekends or traveling. Long story short, being surrounded by those I love. Coincidently, its typically during these times that I'll usually enjoy my favorite cheat meal. If I had to choose just one, it'd probably be a juicy medium-rare ribeye with broccolini and a loaded baked potato, paired with a delicious cabernet. My mouth is watering, just imagining that! Mmmmm. But I have a pallet that does not discriminate and loves all foods! Which continues to bring me back to FXB!
Why did I become an instructor? Well, thinking, why did I officially pull the trigger – the answer to that really is that Sam will only ask once! After having been a member for so long and a regular at 4am, it just seemed as though it was the next step. I feel as though I am a product of this environment. I came in 2nd in my 10-week session, won a couple Fit challenges and really put my mind to what our goal and mission is. I enjoy helping others and when Sam asked if I was ready, we had talked about it a handful of times over the years, it seemed like it was a now or never moment. I am glad that I chose now!