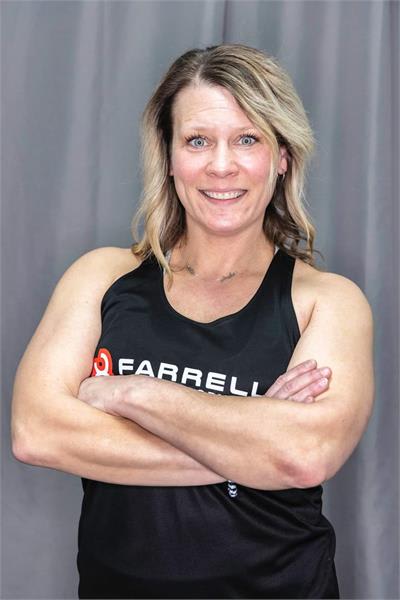 Tiffany Crank
I started Farrells when it first opened here in Albertville January 2017. I needed a change from the
normal, everyday routine and basic gym.
Back in 2012, I started studying to become a personal trainer and nutritionist, but that fell thru, as my
mother passed and I had to take over her business. So, one year after starting at FXB, I got asked to
instruct strength training. I was so excited, this is my opportunity, to help, inspired, and drive people to
feel better and gain confidence.
Kickboxing was my favorite to take as a member, it is now my favorite to instruct. But I also enjoy
strength classes almost just as much, especially when we are around week 6 in a 10-week session and
thru fit weeks.
When I am not at Farrells instructing or working out, I clean homes in the area, do bookkeeping,
maintain my home, watch my kids play baseball, softball, volleyball and football, along with driving them
to all of their practices and games. I enjoy golfing, hanging out with friends and family, and traveling
when and wherever I can.
All and all, I love FXB and the humans that are there. I could be in a grumpy mood or tired and I walk in
to so many hellos and warm welcomes. The change of this gym for me has been amazing and so much
fun.